It takes quite a bit of effort, but you can do it. The extra income can be a major benefit.
Yes, putting yourself "out there" for potential criticism can be a daunting proposal. It will also involve a huge amount of work to create an effective Udemy class, or on any of the other available online training providers, for that matter.
As an author, with 13 books published and an upcoming Udemy class, I have become quite accustomed to putting myself out for the world to criticize and appreciate. The best part about this process is that it has been done with minimal financial investment. That is, of course, until we start considering the value of the time invested. My latest book took 15 months of part-time work on the part of myself and my "unpaid" professional editor.
When I finally committed to creating the Udemy class, the basis of the class already existed in a seminar that had been presented to the local Small Business Center a few times. Because of this, I believed that the amount of effort required would be minimal. I was wrong! Recording video and screen captures is a major step away from face-to-face presentation with a PowerPoint slide deck.
You are not reading this post for me to drone on about the possible negatives of making yourself public. You need some encouragement to take a leap of faith and do this yourself. Get ready for a fun and beneficial experience!
Creating your own Udemy class
First, let's look at what experience you can share to enrich the lives of the world's citizens. Your subject matter can cover subjects form the area of style to security, programming, how to work from home and many others. Take a look at the many class subjects available on Udemy. Yes, you may be greatly surprised at what the many people spanning the cultures of our world would find interesting. You may even have a unique skill that people would pay to learn!
The first step in creating a video class will be selecting the software that you will be using. I, personally, don't like to invest a large amount of money on something that does not have a guaranteed return. Therefore, I chose to use multiple pieces of software for video recording, screen capture and editing. I looked at one software package that provided most, if not all, of the features needed. It is called Camtasia and is sold by TechSmith. It comes in a free trial and will cost around $200. I chose to use Windows Camera software for my video recording, OBS Studio for my screen recording and Movavi for my editing and production.
Did I get all of this software absolutely free? No, because there was a (very minimal) cost of $40 for Movavi. You have to consider the cost of the time invested in downloading and trying many of the free packages. Also consider the fact that the frustration level is quite high, in my case at least, from testing the free video editing software without a strength in that area. Even with the best video editing software and a strong knowledge of how to use it, plan for at least six hours to create and edit a single video lecture lasting about five minutes. By the way, Udemy's suggested length is 5 to 20 minutes and they will not approve a single lecture longer than that.
What is the subject of my class?
Now that we have the software, what subject do we want for our class? Even if you have created a presentation which you will be using as a basis for your class, you should still create an outline (called a Syllabus in the educational arena). This will allow east creation of individual sections and a sense of completion for each section. One of the many guides for creating a syllabus is from Stanford University's Teaching Commons site.
You have selected software to use in your journey and have a Syllabus to guide your way. What's next? You should "officially" begin your journey by signing up with Udemy's "teach" side of the site and begin by creating and naming the class. They will send emails and guides for getting your course completed within a relatively short period of time. Of course, that is only a goal. It is better to have a complete and applicable course than to adhere to a self-imposed deadline which results in a sub-standard production. The next best step, in my opinion, is to view the free Udemy instructor courses.
A course that is in progress will look something like the screenshot below.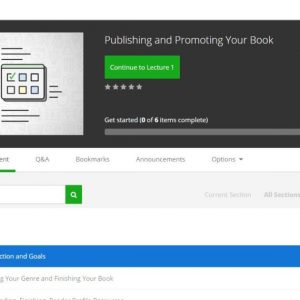 Notice that this is the student view of my course and I only have six items in the course so far. Needless to say, I haven't made too much progress in my Syllabus for Publishing and Promoting Your Book. With three main titles – Finishing Your Book, Publishing and Promoting, we could consider that I am nearing the halfway point. Honestly, though, there are many more options and selections in the publishing process than the other two combined. According to my Syllabus, we should expect about twenty lectures total.
Cost and promotion
As you are creating your course, you should be considering how much you can charge. With all of the effort, isn't it worth at least $100? I am charging $35 for this course once it is finished. Another pricing consideration is the Udemy discount program. You may have signed up for one or more of the Udemy courses when there was a special offer of $10 and $20 courses. I have certainly signed up for many of those because of the low price point. I admit that in some cases, you get what you pay for. In others, most in fact, you get a quality course with excellent instructor interaction for an extremely discounted price.
Finally, we will look at individual promotion of your course. Do you have Facebook, Twitter, LinkedIn or other social media accounts? This is an excellent free resource for advertising and promoting your course. Do you have a web site? If not, get with the program. Today's business world is all about branding yourself. When you have something to offer to the public, you should make your brand memorable and appealing. We can all probably recall commercials from the Geico series. Fast food companies and even office supply stores take advantage of branding. You should get in on it!