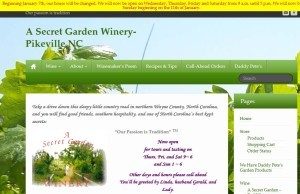 At Link Em Up, we can help in your business website redesign in many ways. If you want to be involved only in the design of your desired end result, we can take your site redesign to completion with minimal involvement from you and your team. At the opposite end of that spectrum, if you want to do it yourself with professional support available, we can answer questions and provide assistance on an as-needed basis.
If your desire is to purchase a guide and take on your web site design project completely on your own, we have a book entitled "WordPress 4 Business Website Redesign: With Custom Coding of Imported Database," available through Amazon and other outlets in Ebook and paperback form.
The screenshot shown above was taken from a site redesigned by Link Em Up. The original design was pulled from "The Wayback Machine" and it looked like the screenshot below.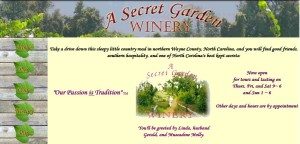 This design was at least eight years old and not truly designed for the modern mobile devices. As you can tell by visiting A Secret Garden Winery, much of the original text and graphics were utilized in the redesign within the WordPress framework. The theme selected for the redesign is CyberChimps and the background image of grapevines combined with a green color scheme fit perfectly for the winery focus of the site and business. Another feature added, above and beyond the old site, is the implementation of Ecommerce and integration with Paypal. The chosen plugin for this functionality is MarketPress Lite. Due to the specific needs of another business model, a desktop program was developed by Link Em Up to interface with MarketPress Lite and add additional order management functionality.
Redesign projects are the easiest and most efficient due to the existence of current text and graphics. As small business owners, we don't always take the easiest route. We enjoy the challenge of a completely new web site designed to showcase the service and product offerings of your own business. The desire to add to your revenue stream is the main focus of our web design and custom programming efforts. In fulfilling that desire, we can merge new designs and concepts with your current web site, turning your ideas into reality.
The site that you are viewing was designed using the Customizr theme coupled with years of advertising and design training. We host our own designs or offer various hosting packages for you to craft your own words for the world. The hosting packages are quite competitive and include various blog, forum, poll, ERP and many other installable packages.